Sometimes you come to work on a Monday morning and you're thinking about what your day is going to be like, maybe what's your first meeting or your last meeting or what you left behind at home or traffic or whatever. And sometimes you're lucky enough to round the corner as your approach the door and see something amazing and wonderful and hopeful that looks like this…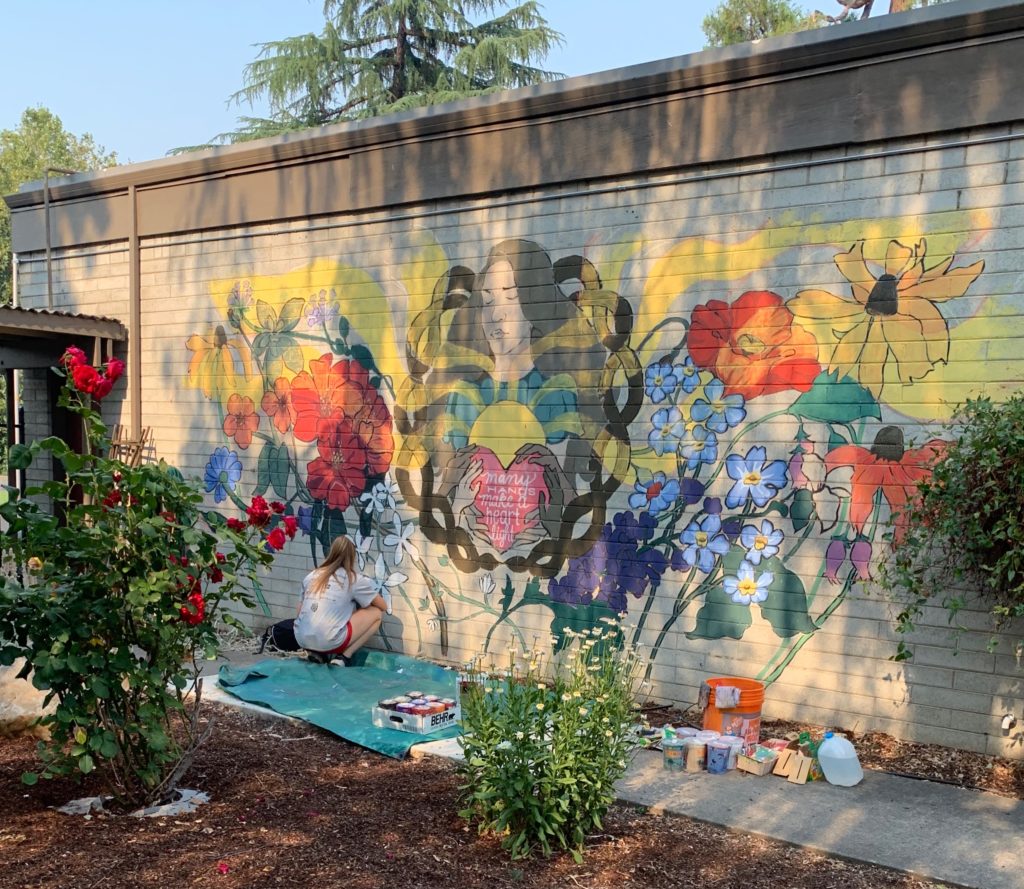 I was out last Friday, at an all-day meeting but that's way down the road on this story. Last fall, a young woman came to my office. Emma said she really wanted to paint a mural. Did I know anywhere she might do that?! I said, how about our building?! She'd done a lot of homework. She knew murals were healing in community, made people happy, brought energy and light. She knew they often appeared after tragic events and mentioned several in different communities around the country. She knew they often celebrated big events or moments. Emma wanted to do a mural as her senior project at St. Mary's. As you can see above, she's a fine artist. She had ideas and they were fast flowing. We didn't drive her project or the timing. She gave some ideas and Jan Sanderson Taylor, the creative soul, on our staff and I met with her a few times. Emma got very busy with track, school, college applications and graduation. I knew she'd come back. I didn't know when and I didn't know what it would look like. I did connect her to people who know murals like Denise Donohoe Baxter, who painted the amazing Guanajuato mural in Ashland, and Joan Thorndike, LeMera Gardens, to talk about local flowers. We knew wanted be indigenous and about local because we are local.
And then a week ago, Emma sent an email saying, "Can I come on Wednesday until I finish on days, nights and the weekend. I don't have much time before I'm traveling this summer and off to college." And you can see sheer beauty has landed on our wall!
And here's what's amazing. Emma Bennion learned about us along the way by talking to us and looking at our website and talking to her mom, who's on our board. And last night while visiting with her I realized how much hope and inspiration and amazement she gives me when I talk with her. And as we talked about our favorite parts of the mural, I realized those parts are the values of United Way embedded in the mural, maybe with Emma's knowledge or maybe because they are part of this place. Community is there in hands and the weaving together. Compassion is there in the woman's face and in the words. Vision is there in Emma's signature on the mural. Integrity is there without question in giving her the space to do her amazing work. And the hands are inclusive in their various colors. The mural represents us and Emma Bennion did it. We are forever grateful for her and her work! If you know her, thank her!