Volunteer Income Tax Assistance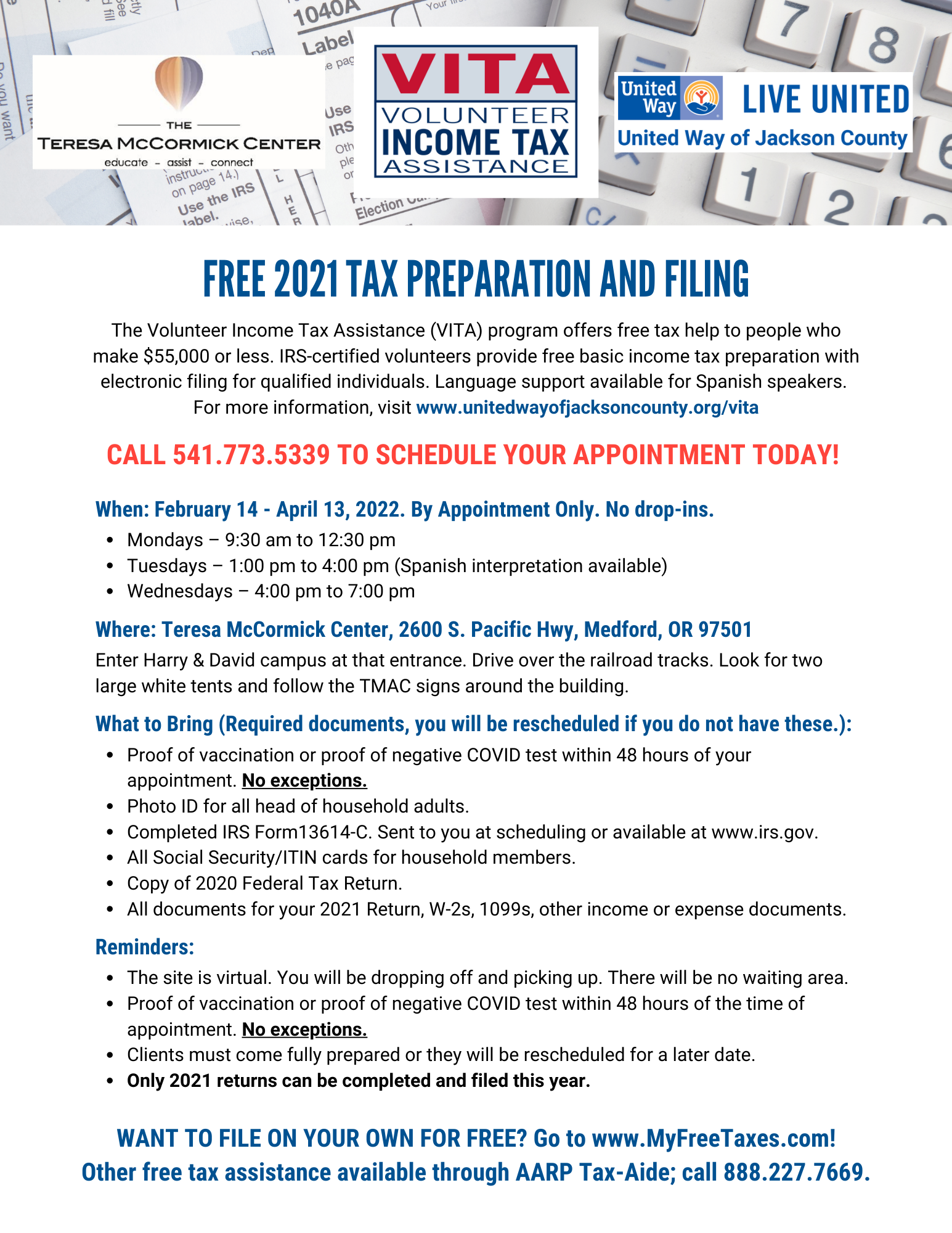 The Volunteer Income Tax Assistance (VITA) program offers free tax help to people who make $55,000 or less. IRS-certified volunteers provide free basic income tax preparation with electronic filing for qualified individuals. Language support available for Spanish speakers.
UPDATE: As of April 13, 2022, VITA has concluded its services for the 2021 tax season. For those still needing to file a return or an extension, please visit: www.irs.gov/filing/free-file-do-your-federal-taxes-for-free.
United Way fights for the financial stability
of every person in every community.
Through VITA and MyFreeTaxes, we give people financial education and tools to build a solid foundation
that improves their lives and the lives of their children.
Volunteer Income Tax Assistance (VITA) creates access to the single most effective, efficient national anti-poverty program in existence — the earned income tax credit (EITC) for working people. And VITA volunteers make sure people get all the credits they have earned.
For millions of Americans, tax refunds and credits are essential to their financial stability and success. The single biggest cash payment that low-to moderate-income individuals or families receive is often their annual tax refund. As a result, tax time is a critical financial inflection point, that when used strategically, can positively impact a family's financial future. This results in thriving communities where everyone has more opportunity to succeed.
Amy, a college student and single mom works hard to make ends meet for herself and her little boy. "He's my everything – I'd do anything for him".
When Amy had her taxes prepared at her local United Way Volunteer Income Tax Assistance (VITA) site, she learned that she qualified for the Earned Income Tax Credit (EITC). Amy says she'll use her EITC "to pay off debt, to buy new clothing, to put food on the table…little boys grow very fast! It's important for him to see we can reach our goals, no matter what's in front of us."
VITA helps millions of workers like Amy keep more of what they earn to pay for things like reliable transportation to get to work, housing, and food.
MyFreeTaxes is a free, safe and easy way for individuals and households earning less than $73,000 in 2021 to file their own federal and state taxes online for free. It is the only free, national, online tax filing product offered by a nonprofit. MyFreeTaxes provides more forms than any other free product on the market.
Start by clicking on the logo at left.